Decking can make the exterior of your property look absolutely beautiful. Not only does decking add another area for you to relax, but it can make your home look even more expansive. Think about it – if your home sits on a good amount of land, but is small in size, then you might feel crammed at times. With our deck designers, you can enjoy a beautiful deck to have coffee on, play with your children on, and to just take in the great outdoors of the scenic areas in and surrounding Portland, OR. Sitting on your deck with a cup of hot cocoa in the winter is so relaxing. And enjoy your morning coffee or a late night cocktail while admiring the stars is just unbeatable. Our deck contractors in Portland would be happy to help you come up with the deck of your dreams.
Best Local Deck Designers
We understand that when it comes to decking, you are looking for both beauty and functionality. We are here to offer both at Evergreen Renovations & Roofing. Portland, OR area homes have benefitted from our services for years now. We are a local, family-owned company that has been in business since 2009. Our local deck designers and deck contractors are committed to providing you with excellent results. As a matter of fact, your satisfaction is guaranteed! So many of our customers are return customers for a reason!
Durable, Low-Maintenance Decking
Our deck designers know durability and reliability are crucial when it comes to your deck. We know our customers want decking that is durable and low maintenance. When you have decking installed, you don't want to have to worry about staining or sanding it. You just want to enjoy your beautiful deck without having to worry about maintaining it. There are so many options available, to include artificial decking materials which can lessen maintenance requirements, composite options, natural surfaces and more. Our deck designers can help you to improve your home's outdoor living space by providing wonderful ideas. Remember, we are a local, family-owned company serving areas in and near Portland, Oregon. We can come to you fast, take the appropriate measurements, and make sure to work within your budget. We take pride in treating our customers like family. Our many return customers stand proof to the fact that customer satisfaction is our top priority. Businesses operating with integrity can be difficult to find – but we're dedicated to outstanding results and service.
They were very good to work with, did what they said they were going to do and did an excellent job. The people were very professional.
We Are Deck Contractors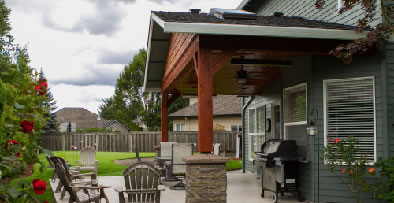 Contact us to set up an appointment with our deck contractors. We are here to make sure you get the deck of your dreams. Building long lasting relationships with our customers is important to us, and we look forward to doing this with you.
Call us at: 10074409398
CONTACT US NOW
AND WE'LL BE OUT TOMORROW (OR MONDAY)
OR CALL US AT (503) 720-4699