If you are looking for siding replacement, we can help! Are you asking yourself, "Why siding replacement?" Well, siding replacement can make a major difference when it comes to the look of your property. We are renowned for doing this type of work in the Portland area – customers love that we are a family-owned, local business operating with a sense of integrity. Here, our customers always come first. You are sure to love our attention to detail and experience. Plus, we always leave the site clean after completing our work. Customers are never disappointed!
We Treat You Like Family!
Our business is here to address your needs when it comes to home improvement. Let's face it – sometimes you realize something needs to change, but aren't quite sure what. Siding replacement can be the modification you are looking for. Evergreen Renovations & Roofing is a local business you can trust with the task. We will treat you like family.
Siding Repair & Replacement Done Right!
Have you noticed moisture entering the exterior walls? You might need siding repair. Look for signs of rotting or damage to the framing. If this is something that you see, you'll definitely want to have the siding fixed or replaced by our experts. We offer various options in regards to materials and selections. We even work with a variety of brands. Siding replacement is a service we are proud to offer to those in Portland and nearby areas such as Vancouver, Washington. We are all about helping locals like you to make a difference to your property to make it feel more like home.
Siding Replacement Option: Fiber Cement Siding
Composite of sand, cellulose and cement
Stronger and more durable than vinyl and aluminum
Paintable
Affordable
Resistant to mold and mildew
Factory and custom finishes
Siding Replacement Option: Steel Siding
Very hard-wearing
Maintenance free
Energy efficient
Additional insulation is an option which is available
Different color options
This can look like wood panels
Siding Replacement Option: LP Siding
Natural look – similar to cedar
You can avoid the expensive upkeep and maintenance that comes along with traditional wood siding
Premium engineered wood
Special strength
Ask about primed, pre-painted and more options
Resistant to termites, decay, fungi and other concerns
Siding Replacement Option: Vinyl Siding
Durable and long lasting
Additional insulation available
Different colors are available
Energy efficient
Maintenance free
Siding Replacement Option: Aluminum Siding
No maintenance required
Do not have to worry about rotting or warping
Additional insulation available
Brian did an outstanding job for us and was very professional. Easy to reach and great communication. Quality work.
Everything went great. Bryan and his crew worked steadily even though the temperature reached some of its highest levels in September. Progress was faster than I had anticipated and they were sure that everything was secured as they went along. They were all very pleasant and accommodated special requests for tweaking here and there. They also moved and then replaced two sheds in order to work on the east side of the house. Overall we were very pleased with the quality of the entire project and felt that the charge for everything was quite reasonable and better than other quotes I had received just for siding. We would certainly have them come back for either a small or a large project.
Their bid was very competitive and complete. They came on time and worked long days to get the work done. They didn't let bad weather stop them. Once the siding was removed there were some sheathing that needed to be replaced. There was a lot of time spent going back to the big box store for supplies that could have been avoided and some material that was first purchased that was not the right one for the job. By the time the additional work was done, the total for the job was 25% higher than first estimated. They cleaned up after themselves and hauled all of the debris away. Overall I am happy and would bring them back again. They really know how to do siding and decking.
These are just some of the options you have to choose from. If there is something else you might be interested in, or if you have questions regarding siding replacement, just dial our number. It doesn't matter if your primary concern with regards to siding is maintenance, cost or something else – we will listen to your needs, wants and concerns and help you to make the best decision possible.
You Are Our Top Priority!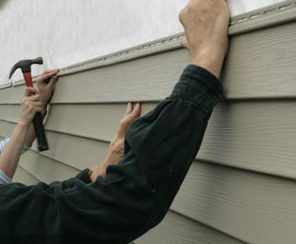 If you are looking for siding replacement, Evergreen Renovations & Roofing offers services to those in Portland and the surrounding area. Siding replacement, as mentioned, can and will make a major difference when it comes to the look of your property. We are renowned in the area – customers love that we are a family-owned, local business operating with integrity. Here, our customers always come first, and they know this. Just take a look at some of our reviews around the web, or ask your neighbors about us – we are confident they will tell you wonderful things because we make it a point to ensure our customers know they are our top priority. Let us listen to your ideas and help you to implement them when it comes to siding. As our customer, you will never be let down.
Call us today to schedule an appointment for siding replacement!
CONTACT US NOW
AND WE'LL BE OUT TOMORROW (OR MONDAY)
OR CALL US AT (503) 720-4699